The Fernström Monument
Adresse: Meyers plan / Prinsgatan, 374 38 Karlshamn
Karte anzeigen
Adresse: Meyers plan / Prinsgatan, 374 38 Karlshamn

In memory of A.K. Fernström and the heyday of the stone industry in Karlshamn.
This 100 year old monument consists of eleven different types of granites and weighs 28 tons. It is in memory of A.K. Fernström and the glory days of the stone industry in Karlshamn. The stone industry era in the city of Karlshamn has always been associated with one person, namely Alfred Kofoed Fernström, who came to Karlshamn in the 1800´s from Bornholm and realized early on the Blekinge granite potential. He started A.K. Fernströms Stone Industries in Matvik (east of Karlshamn) and later the company also quarried stone in Sternö (west of Karlshamn).
Several famous buildings around the world are built with Fernströms granite, for example the Empire State Building and the pillars along the City Hall in Stockholm.
Mehr anzeigen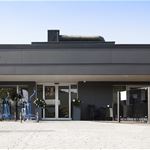 Hotel
Entfernung: 2,3 km
Karlshamn's largest and newest hotel is located just steps away from the highway and interconnects with all of Europe. Yet, close to the delightful town, convivial archipelago, beatiful golf course, and of course phenomenal salmon fishing.
Hotel
Entfernung: 608 Meter
You are cordially invited to a hotel that combines an international atmosphere with the genuine charm of a traditional Swedish city hotel.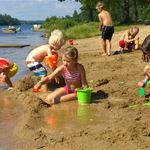 Camping
Entfernung: 6,5 km
Erleben Sie die hübsche & erholsame Natur im Naturschutzgebiet Långasjönäs. Hier kann man so richtig schön ausspannen, mitten im Naturschutzgebiet mit herrlichem Blick auf den See Långasjön. Hier befindet sich unser Campingplatz & Feriendorf – mit einer großen Auswahl an Unterkunftsmöglichkeiten mit unterschiedlichem Standard.