Adresse: Karlshamn

Walking trail - Tjärö.
Trail (1,5 km with blue trail marks) on the island Tjärö. There is another trail on the southern part of Tjärö (3 km with yellow trail marks).

Take the boat from Järnavik or Karlshamn to get to the island.
Mehr anzeigen
Hotel
Entfernung: 11,6 km
You are cordially invited to a hotel that combines an international atmosphere with the genuine charm of a traditional Swedish city hotel.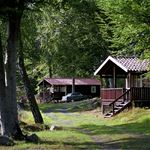 Cottage
Entfernung: 9,9 km
Kolleviks Camping is a holiday paradise with camping and cottages by Östersjön, 3 km southeast of the centre of Karlshamn, in the heart of Blekinge and its scenic archipelago.
Hotel
Entfernung: 3,1 km
Eriksberg Vilt & Natur offers a very exclusive facility where the wild animals and nature walks like a red thread through the interior. Within the natural area, which is one of Northern Europe's largest wildlife reserves, we offer secluded accommodations for you who are looking for other experiences than a normal hotel.