The last outpost before the open sea is Tärnö island.
There is a beach for sunbathing and you can also find the oldest wooden lighthouse in Sweden on the southern part of the island. It is said that an old silver treasure is buried on Tärnö!
You can get here with your own boat or by archipelago boat from Karlshamn during the summer, or from Matvik on a tour boat or water taxi via Joggesö, Ekö, Hallö, Östra Bokö and Fölsö. The former teacher's accommodation is now two flats, and there are four waterside boathouses available to hire - contact the Tourist Office in Karlshamn.
Laxboden on Tärnö is the only shop in the archipelago. Coffee and simple dishes are served on the jetty. Song recitals are held on some summer evenings.
Mehr anzeigen
Über diese Aktivität
Telefonnummer

Email

Externe Links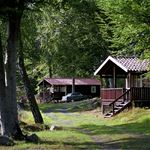 Cottage
Entfernung: 6,8 km
Kolleviks Camping is a holiday paradise with camping and cottages by Östersjön, 3 km southeast of the centre of Karlshamn, in the heart of Blekinge and its scenic archipelago.
Hotel
Entfernung: 7,3 km
Eriksberg Vilt & Natur offers a very exclusive facility where the wild animals and nature walks like a red thread through the interior. Within the natural area, which is one of Northern Europe's largest wildlife reserves, we offer secluded accommodations for you who are looking for other experiences than a normal hotel.
Hotel
Entfernung: 8,8 km
You are cordially invited to a hotel that combines an international atmosphere with the genuine charm of a traditional Swedish city hotel.