Animal Safari on the Savannah
Kategorie:
Children & Family, Höjdpunkter, Other
Get close to the animals at Eriksberg Wild & Nature.
Do you want to see the wild animals at Eriksberg really close up? Now you have the opportunity to sit in a carriage out on the Savannah and watch the wild animals as they are being fed. If you are lucky you will see vines, wild boars, deers and mufflins up close. Although some birds usually show up, you might see a sea eagle floating by.

The activity is being performed daily until 31 August. Don't forget to bring binoculars and cameras. It's a maximum of 15 people at each occasion.

You meet outside the reception at 10.15 and afterwards you travel out to the carriage which is located on the Savannah. Then you will sit quietly to not frighten the animals, while staff from Eriksberg drive out with a four-wheeled motorcycle to spread food around the carriage. The animals usually come running when they hear the motorcycle, because they pair it with food. For about an hour you have the opportunity to look for the animals that are attracted by the food and hopefully you will get some really good photo opportunities. After about an hour you will go back. Then lunch of the day is recommended in the restaurant at Eriksberg.

Price: SEK 130 for adult, SEK 80 for children 4-16 years

Book on +46 454-56 43 30 or [email protected]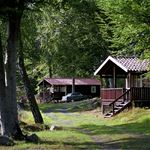 Cottage
Entfernung: 7,3 km
Kolleviks Camping is a holiday paradise with camping and cottages by Östersjön, 3 km southeast of the centre of Karlshamn, in the heart of Blekinge and its scenic archipelago.
Hotel
Entfernung: 4 Meter
Eriksberg Vilt & Natur offers a very exclusive facility where the wild animals and nature walks like a red thread through the interior. Within the natural area, which is one of Northern Europe's largest wildlife reserves, we offer secluded accommodations for you who are looking for other experiences than a normal hotel.
Hotel
Entfernung: 8,8 km
You are cordially invited to a hotel that combines an international atmosphere with the genuine charm of a traditional Swedish city hotel.