Scholarship Concert
Kategorie:
Events, Concert & Music
Requiem by W A Mozart at Carl Gustafs church.
Requiem by W A Mozart, Jonas Larsson, trumpet, Carl Gustafs Motettchoire & Karlshamns Musiksällskap.
Soloists: Karin Thulemark, Maria Bastrup Andersen, Jörgen Axelsson, Martin Arpåker.
Conductor: Mari Sundås.

Arranged in collaboration with Kjell Åkesson's Memorial Fund.
Hotel
Entfernung: 2,6 km
Karlshamn's largest and newest hotel is located just steps away from the highway and interconnects with all of Europe. Yet, close to the delightful town, convivial archipelago, beatiful golf course, and of course phenomenal salmon fishing.
Hotel
Entfernung: 462 Meter
You are cordially invited to a hotel that combines an international atmosphere with the genuine charm of a traditional Swedish city hotel.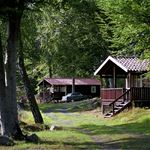 Cottage
Entfernung: 2,3 km
Kolleviks Camping is a holiday paradise with camping and cottages by Östersjön, 3 km southeast of the centre of Karlshamn, in the heart of Blekinge and its scenic archipelago.