Concert at Tjärö
Kategorie:
Concert & Music
Datum: Sonntag 27 mai 2018
Music in the archipelago.
Niclas Fransson (actor), Leena Malkki (soprano) and Emmanuel Pautrot (guitar) synthesize this story in a clever way with texts by Shakespeare, Södergran, Dagerman etc.

Tickets are sold at Lundin's Bokhandel (book store) from March 3.
No sale of concert tickets at Tjärö.
Boat trip from Järnavik. You pay the boat ticket on Tjärö.
Tjärö Restaurant is open after the concert.
Pre-book at +46 (0)454-600 63 or info@tjaro.com
Datum

Uhrzeit

Veranstaltungsort

Sonntag 27 mai 2018
18:00
Tjärö
Hostel
Entfernung: 425 Meter
Tjärö is located in the middle of the archipelago of Blekinge. The island is preserved in an environment that makes it feel like a fairytale of Astrid Lindgren.
Hotel
Entfernung: 2,9 km
Eriksberg Vilt & Natur offers a very exclusive facility where the wild animals and nature walks like a red thread through the interior. Within the natural area, which is one of Northern Europe's largest wildlife reserves, we offer secluded accommodations for you who are looking for other experiences than a normal hotel.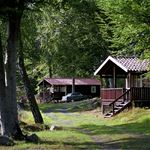 Cottage
Entfernung: 9,8 km
Kolleviks Camping is a holiday paradise with camping and cottages by Östersjön, 3 km southeast of the centre of Karlshamn, in the heart of Blekinge and its scenic archipelago.