Aktivities for the whole family in northern europes biggest wildlife park.
Family day 2nd of June at Eriksberg Wildlife Park. There will be several different aktivities.

If you´re only visiting the family day you don´t have to pay the entrance fee.
For a tour around the safari park and look at the wild animals a fee has to be payed at the entrance. More information and prices on the website below.

Welcome to a lovely day for the whole family!
Date
Time
Arena/Place

7 Jun

Sunday 7 jun 2020
Eriksberg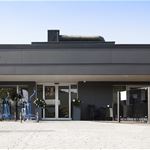 Hotel
Distance: 10 km
Karlshamn's largest and newest hotel is located just steps away from the highway and interconnects with all of Europe. Yet, close to the delightful town, convivial archipelago, beatiful golf course, and of course phenomenal salmon fishing.
Hotel
Distance: 8.8 km
First Hotel Carlshamn is comfortably located downtown Karlshamn. The hotel, built in 1987 reflects the historic heritage and design of the early 20th-century market hall once located here.
Hotel
Distance: 4 meters
Eriksberg Vilt & Natur offers a very exclusive facility where the wild animals and nature walks like a red thread through the interior. Within the natural area, which is one of Northern Europe's largest wildlife reserves, we offer secluded accommodations for you who are looking for other experiences than a normal hotel.