Högarör - Gravesite from the bronze age period
Show map
At Sternö in Carlshamn is the largest burial mound in Blekinge.
Here you can also get a magnificent view out of Hanö bay on a clear day.

During the bronze age period (1500 - 500 b.c), it was custom to bury the dead by covering them with stones and dirt. In the beginning it was customery to bury the dead in a hollow tree.
Towards the end of that age people started to cremate the dead. The ashes were put in an urne and buried in the ground, often with some worktools and jewelery.
"Högarör" is a such a gravesite. It lies 53 m above sea level and offers a fantastic view. The diameter of the pipe in the ground is about 30-40 m, therefore researchers believe that this is the gravesite of a very important person.
Show more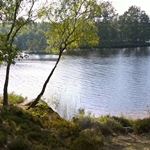 Camping
Distance: 9.3 km
Experience the beautiful and peaceful nature of Långasjönäs Nature Reserve. Here you can relax for real, right in Karlshamn nature reserve with lovely views over Lake Långasjön. Here is our campsite & holiday village, with a great selection of accommodation with different standards.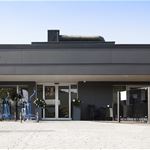 Hotel
Distance: 5 km
Karlshamn's largest and newest hotel is located just steps away from the highway and interconnects with all of Europe. Yet, close to the delightful town, convivial archipelago, beatiful golf course, and of course phenomenal salmon fishing.
Hotel
Distance: 2.5 km
First Hotel Carlshamn is comfortably located downtown Karlshamn. The hotel, built in 1987 reflects the historic heritage and design of the early 20th-century market hall once located here.